Multisite Progressive Jackpot: Magic Casinos Jackpot
You can now win up to nine; 5 million euros or more by betting only 1.50 €!
It's now possible in 100 casinos in France thanks to the new Magic Casinos Jackpot.
The "Magic Casinos Jackpot" is a progressive multisite jackpot that has been established; recently authorized by the French public authorities. The groups Lucien Barrière, Joagroupe, Emeraude and Tranchant have set up a progressive jackpot that should delight players of slot machines in France.
Record gain on May 24, 2010 at the casino of Bagnères-de-Bigorre on a slot machine of the Magic Casinos Jackpot: € 5,512,448 earned by a couple from Pierrefitte-Nestalas in the Hautes-Pyrenees with a stake of only 50 euro cents!
Progressive Jackpot Megapot Partouche
Since December 2008, the Partouche group has also been offering its progressive multi-site jackpot that connects more than 200 slot machines in the group's casinos. A player thus won 3,125,471 euros with a stake of 2.5 euros at the casino Le Pharaon de Lyon, and a player won the tidy sum of 3,303,900 euros on Saturday, May 30 at the Casino Annemasse.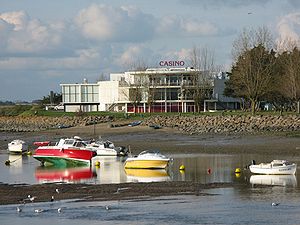 With PMU and La Française des Jeux, casinos are one of the gaming monopolies in France; as a result, it is a highly regulated industry. In recent years, this activity has focused on a few groups.

Law of June 15, 1907 regulates gambling in clubs and casinos of resorts, spas and climates
Law of 1919 forbids games of chance within a radius of 100 km around Paris.
Law of March 31, 1931 allows spas located less than 100 km from Paris to hold a casino (the game of the ball remaining prohibited).
Decree of 22 December 1959 and Decree of 23 December 1959
Law of 12 July 1983
Law of May 5, 1987 allowing slot machines in certain establishments, which will allow the sector a real revolution,
Law of 5 January 1988 (known as the "Chaban Amendment") allowing "towns or tourist resorts constituting the main city of an agglomeration of more than 500 000 inhabitants and participating for more than 40%, where appropriate with other local authorities, in the operation of a national drama center, a national orchestra and an opera theater presenting in season a regular activity of at least twenty lyric performances "to hold a gaming establishment.
Law of 29 January 1993
Law of 2 July 1998 allows the game of the ball to Enghien les Bains.
Security Regulations of 25 June 1980
General code of local and regional authorities (Art L.1411 and following)
Monetary and Financial Code
Penal Code
Tourism Code
Code building and housing
Code of urbanism
In France, the operation of casinos is reserved for seaside resorts, thermal and climatic, as well as tourist cities of more than 500 000 inhabitants having a national dramatic center or a scene financed for more than 40% by the city ​​or, where appropriate, with other local authorities. [1].
The operation of casinos is a regulated profession under the dual supervision of the Ministry of the Interior and the Ministry of the Budget (Finance).
The operating licenses for the games are granted by the Ministry of the Interior. This authorization comes after the opinion in principle of a casino operation issued by the deliberative assembly of the local authority concerned (municipal council - council of the community of communes), the implementation of the public service delegation procedure (call for tenders and competition of the candidates for the operation of the casino) and after investigation inconvenient-inconvenience. A specification, which has become a public service delegation agreement since the opinion issued by the Conseil d'État on 4 April 1995, sets the operating conditions and the relationship between the designated concessionaire and the local authority.
At the Ministry of the Interior a national gaming commission, composed of senior officials (14) and elected officials (5), is responsible for examining applications for initial authorization of games, renewal of previously granted authorizations and requests for authorization. extension of these authorizations to new games.
The authorization of games is temporary and renewable. Its maximum duration is fixed at 5 years by administrative practice.
The authorization of games can be revoked by the Ministry of the Interior in case of non-respect of the specifications or the provisions of the ministerial decree authorizing games. The territorial authority may also, on the same grounds, ask the Minister to dismiss the concessionaire. The response of the Ministry of the Interior must intervene within one month.
Licensed casinos must have a responsible manager with a well-defined social status within the management structure of the operation. It is assisted by a management structure of at least four members called the management committee. The director and members of the management committee are responsible for compliance with the regulations of the casino games formulated in the decree and decree of 22 and 23 December 1959 amended and compliance with the terms of the specifications.
Anyone assigned to any job in a gaming room (managers and employees) must have been previously approved by the Ministry of the Interior.
In France, the minimum age for admission to a casino is 18 (civil majority).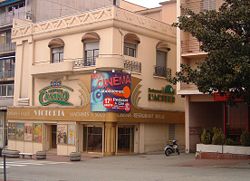 Since the decree of May 14, 2007 that eliminated the notion of ordinary games and special games that distinguished different casino games, all games exploited (table games and slot machines) can be grouped together in one space operating. A joint establishment allowing a mixture hitherto prohibited for the so-called special counter table games (roulette, thirty-four, blackjack, craps, punto banco and stud poker) and so-called circle games (baccarat-bank and railroad).
Until May 1, 2006 an entry fee was required to access the table games. This cost consisted, for all or part, of a tax stamp duty of a different amount depending on the duration of the admission card issued (daily, weekly, monthly or seasonal). For a day this fee was 10 euros.
Since November 1, 2006, institutions must have implemented systematic monitoring of admissions without registration of personal data access to each of the gaming rooms (slot machine and table games). This check to check the ability of a person to enter a gaming room is exclusively to prohibit access to games to minors or registered in the national file of "prohibited games").
Since 1 January 2008, as for discos, bars and restaurants, it is forbidden to smoke inside the gaming establishments. These businesses had obtained an 11-month moratorium on the law prohibiting smoking in public places.
According to the Ministry of the Interior, the gross proceeds of the games amounted to 2.65 billion euros for the 2004-2005 season [2].
5 groups hold the majority of the casino market in France:
There are then 6 small groups holding between three and five institutions in France, most often of medium size. Vikings Casinos is one of these groups. They represent just over 10% of the market.
Finally, independents hold about 20% of the casinos market [3]
Ranking of the main casinos
Ranking by gross product of the games for the financial year 2004-2005 [4]:
In la France, there are 84 establishments that offer you play poker live, for a fee at the tables (usually from 50 €). These casinos, are grouped into 5 categories (Groupe Partouche, Barrière Group, Groupe Tranchant, Groupe Joa and the independents) and cover the entire French territory.
The Partouche group holds 35 casinos throughout France and allows you to play poker for 50 € minimum:
The best online casinos in France in 2018
What is the best online casino site in France?
The question often comes up on the carpet: where to find the best online casino site in France that can accommodate French players? Since it is not easy to find the answer to this question, which site ranks among the best and gives you a pledge of confidence, quality, etc. we decided to explore and test most of them.
The # 1 online casino in March 2018 for French players is. Our critics have also found other great sites to play on; they are listed below.
Our criteria for selecting the best online casino sites in France are security, reliability, means of payment, customer service and the variety of games available from blackjack roulette to craps and more:
Safe sites, among which French Internet casino players can make their choice.
We have reviewed and reviewed dozens of French online gambling casinos to give you the best of them.
Hundreds of games, huge welcome bonuses and huge jackpots are waiting for you.
The online casino players of France can be reassured: We have found the best online gambling sites.
Best online casino in France 2018
Free Chips @ Signup Bonus
Payment Speed: N / A
Payment: N / A
Assistance:
Free Coin Daily
Free Authentic Casino Games
Daily Slot Tournaments
Progressive Jackpots
Free Chips @ Signup Bonus
Payment Speed:
of payment:
Assistance:
Exciting Bonus Games
Unique Friend Play
Play Blackjack Poker
Customizable Experience
Free Chips @ Signup Bonus
Payment Speed: N / A
Payment: N / A
Assistance:
100's of Free Games
Over a Million Players
VIP Rooms, Bonus Rounds
Vegas Thrills
Free Chips @ Signup Bonus
N / A Payment
N / A Average time to pay
Free Chips @ Signup Bonus
N / A Payment
N / A Average time to pay
Casinos that we advise you to avoid
Our experts on casinos where you can play money know how to spot a high quality site. And when that happens, they are happy to let online casino players know. Before recommending a site, we carefully review several components that make a good site a great site.
Not only do we identify sites that are good or excellent and make them known, but we also discard casinos that are not satisfactory. Online casinos that are not able to pass our tests are relegated to a blacklist of casinos. Here are a few :
No payment history
No response to customer complaints
Continuous payment problems
Bad customer service
Linked to a group of casinos unsavory
poor customer service
How do we test the best French online casinos?
Why use this guide to find French casinos?
In France, players can now access online casinos from home for gambling. If you want to try to make money, look no further for a casino to play your bet. We found the best internet sites for French people who want to play money games.
On this page, you will learn more about:
Responsible gaming - How to play safely by setting limits
The payment percentage - Casinos with the highest percentages of payment
Banking options - Sites offering easy banking options in euros, pounds sterling and US dollars
Gambling - Real money games in French
Welcome bonuses - First class bonuses to get you started
If you're ready to try your luck, keep reading and find out where to start.
Online casinos for the French
Some French Internet gaming sites offer great bonuses for players residing in France. Internet betting is widespread among the French, many online casinos have noticed and address directly to the French clientele of casinos.
The websites we reviewed are online casinos where you play for money giving you the opportunity to bet and win hard cash in France. The French player enjoys many deposit options, such as credit cards, e-wallets like Neteller, bank transfers or payments directly in cash. The best French online casinos make life extremely easy for players by allowing them to make payments in euros on their sites. Among the online gambling casinos, listed above, some also offer free spins to French online casino players, allowing you to try the games and choose your favorite ones before making a deposit and starting to play to make money.
Canada: Online Casino Canada and Online Casino Quebec - We have been playing at French online casinos for several years and, with our experience, we select the "cream of the crop". Our list lists only the best French online casinos, which are secure, trouble-free and offer a wide range of games. Our ratings of French online casinos are based on: the games offered, the graphics, the betting assistance, the speed of payments and many other benefits.
Do not look elsewhere to discover online casinos in French. Add us now to your list of favorites because we will soon add our favorite French online casinos.
Best French Online Casinos
Welcome to CasinoFrance-Legal.com, your legal guide to French online casino sites.
Whether you live in France, Belgium, Switzerland or any other European country, you will find here the best online casino sites in French and with a legal gambling license.
In order to guide players to the most reliable online casinos, we present below our ranking of French online casinos in all jurisdictions. For the national licenses of France and Belgium, consult the Casinos France and Casinos Belgium rankings.














Today, it is very easy to play a game of chance by sitting quietly at home thanks to online casinos. There are hundreds on the web, and each of them offers a selection of games more or less varied. However, players often encounter a difficulty: they do not know how to recognize a reliable and secure online gaming site.
How is it then necessary to proceed? Are there any criteria to ensure the reliability of an online casino? If you ask yourself these questions, you are in the right place to find an answer! To choose a good online gaming site, you must always use the following criteria: legality, payment methods, ergonomics and finally bonuses and benefits.
1. Is this online casino legal and authorized in my country?
Most European countries such as France, Belgium, Spain, the Netherlands or the United Kingdom have a regulatory authority for online games. If the site is authorized in one of these states, its homepage usually displays a sticker with the logo of the authority; tutorship. You should always be wary of online casinos that have no license or license that can not be verified.
2. What methods of payment are allowed on the site?
A good online casino often offers 3 types of payment methods:
Bank cards such as VISA card or Master Card
Electronic payment methods such as Paypal or Ucash
Bank transfers from account to account
Deposits and withdrawals must be made promptly without any additional commission.
3. How does the online gaming site show up? What bonuses and benefits does it offer?
A reliable online casino always has an ergonomic gaming platform. It can also have its own game software, or can be used without any support. Regarding bonuses and promotions, be careful and attentive! Check out the special terms and conditions of the offers before you take advantage of them. Make sure the terms are really interesting for you!
In addition, it is better to avoid sites that offer huge bonuses (more than 300% welcome bonus until 9000, for example 6000 euros). These sites proceed in this way to attract customers, but do not honor their commitments thereafter.
Before completing the registration formalities on a gaming site, it is important to consult the sections "About", "Faq", "Help", "Contact Us" 9hellip; If possible, try to reach customer service for more information. Then use the demo mode to test the games or check out the game's practice sheet, and only invest small amounts at the start. If your tests are conclusive, you are free to risk more money.
This information was displayed to you; useful? You will discover them in detail by browsing the site. And of course, for any concerns or suggestions, do not hesitate to contact us!