Palavas-les-Flots Location Map
Google Map of Palavas-les-Flots
Large detailed map of Palavas-les-Flots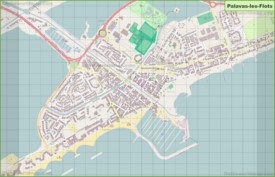 Palavas-les-Flots tourist map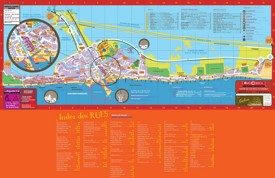 Palavas-les-Flots hotels and sightseeings map
a department, a region. in France
The city of Palavas-les-Flots is a french city located south of France. The city of Palavas-les-Flots is located in the department of Hérault of Languedoc-Roussillon. The city of Palavas-les-Flots is located in the township of Lattes part of the district of Montpellier. The area code for Palavas-les-Flots is 34192 (also known as INSEE code), and the Palavas-les-Flots zip code is 34250.
Geography and map of Palavas-les-Flots :
(The distances to these nearby towns of Palavas-les-Flots are calculated as the crow flies)
The Nautical Center Pierre Ligneuil
Come participate in our annual meeting of the Palavasian Carnival: Parade in the streets, costume ball.
More information on 04 67 07 73 34 - 06 60 97 04 03 - 06 71 97 47 00

Vincent RIBERA organization presents you.
The program of the 2017-2018 season
Infoline: 04 67 50 39 56
A southern town located on a tongue of territory, between the Mediterranean Sea and wild ponds, Palavas-L es-Flots derives its identity from a history of more than three centuries.
In the eighteenth century some fishermen settled at the foot of the Redoubt of Ballestras, there is sheltered since a small company of armed guards occupies and watches over the surrounding area. So was born Palavas. In a coastline that has undergone significant changes in tourism development in recent decades, the "Queen of the Mediterranean beaches" station has focused on preserving its unique character.
In the morning, come and watch the return of fishing and landing on the Canal; on the stalls choose your fresh fish of the day. On the docks, everyone perceives the atmosphere so special: that of a village of traditions where fishermen, walkers, jousters or musicians occupy, together or alternately, the front of the stage.
You enter a classified site NATURA 2000 and "Wetland of International Importance", recognized for its rarity, its fragility and the beauty of its wildlife, both animal and plant. The privilege of Palavas is to have managed to maintain a surprising cohabitation between the sea and the ponds. In a few hundred meters, the eyes swing from the "Big Blue", universe unlimited and open, to the intimate and secret lagoon.
Slightly set back, Palavas-Les-Flots has an important lagoon heritage: a discreet environment that only reveals itself to those who approach it.
These wide beaches gently sloping, sand and golden by the sun, offer comfort and safety to your children.
Along the waterfront, checkpoints, showers and other sanitary facilities are arranged for you. If beach volleyball was born in Palavas in the 1930s, other sports have since developed on the sand and have adopted more current denominations: beach volleyball, beach tennis, beach soccer ...
For several years, Palavasian beaches have benefited from the Blue Flag, an eco-label with strong tourist connotations and symbol of exemplary environmental quality.
Palavas-les-Flots Location Map
Google Map of Palavas-les-Flots
Large detailed map of Palavas-les-Flots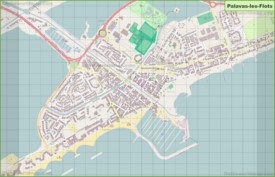 Palavas-les-Flots tourist map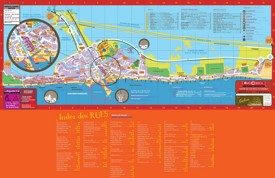 Palavas-les-Flots hotels and sightseeings map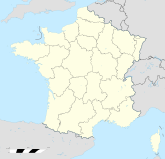 Palavas-les-Flots (Okzitan .: Palavas) ist eine Stadt, die im Herault in der Region Languedoc-Roussillon in Südfrankreich liegt. Sie hat 6034 Einwohner (Stand 1. Januar 2008), die "Palavasiens" genannt werden.
Die Stadt Palavas-les-Flots liegt etwa 10 Km südlich from Montpellier to the Gulf of Lion am Mittelmeer. Sie grenzt an Lattes im Norden, Perols im Nordosten, Mauguio im Osten, Meer im Süden und Villeneuve-les-Maguelone im Westen. Yesterday mündet der Fluss Lez ins Mittelmeer. In Ost-West-Richtung verläuft der Canal du Rhone at Sète durch die Stadt.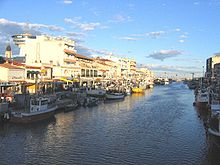 Die Strände (Baden, Bräunen im Sommer, Spaziergang im Winter), ziehen eine sehr große Anzahl von Touristen an, die vor Ort untergebracht (Hotels, Ferienwohnungen, Camping) sind oder in den Nachbargemeinden sowie den Campingplätzen in Lattes und Pérols wohnen. Der 45 Meter hohe Wasserturm Lighthouse of the Mediterranean wurde zu einem Kongresszentrum mit Drehrestaurant umgebaut.
Schlagen Sie auch in anderen Wörterbüchern nach:
Palavas-les-Flots - Saltar a navegación, búsqueda Palavas the Streams ... Wikipedia Español
Palavas-les-Flots - English common name = Palavas the Flots region = Languedoc Roussillon department = Hérault district = Montpellier canton = Lattes insee = 34192 cp = 34250 mayor = Christian Jeanjean mandate = 2001 2008 intercomm = Pays de l Or longitude = 3.3138888889 ... ... Wikipedia
Palavas-les-Flots Palavas, Palavas the Flots State code FR Continent / City Europe / Paris longitude 43.52805 latitude 3.92705 altitude 3 Population 6055 Date 2012 01 18 ... Cities with a population over 1000 database
St. Peter's Church of Palavas-les-Flots - Presentation Roman Catholic Cult Attached to Diocese of Montpellier Déb ... French Wikipedia
Apartment Palavas-Les-Flots - (Палава ле Фло, Франция) Категория отеля: Адрес: 274 Saint Maur Avenue ... Каталог отелей
Palavas - The Flats Palavas the Flots Pays ... French Wikipedia
The Hérault Local Railways - Hérault Railways Model: À recycle Created in 1868, the Hérault Department of Local Railways builds and operates rail lines in this department, which complement the services provided by ... ... Wikipedia in French
The Hérault railways - Hérault Railways Model: À recycle Created in 1868, the Hérault Department of Local Railways builds and operates rail lines in this department, which complement the services provided by ... ... Wikipedia in French